Today's shout-out goes to Boy Scouts of America...
My son and I have been involved in Boy Scouts for about the last 4-1/2 years. He has gone from a bear cub scout to an Arrow of Light Webelo scout to entry-level Tenderfoot boy scout rank to now a Life rank scout.
For me, I've gone from ...
being on the sidelines as he and my wife worked through his early cub scout experience
to signing-on as a last-minute, pinch-runner den leader of his Cub Scouts Webelos posse when his existing leader chose to move on to another pack
to helping him earn his first few ranks and merit badges as a Boy Scout

to observing other parents get involved with helping other kids progress

to signing up as an assistant scoutmaster to help other kids

to teaching a few merit badges on my own
to having enough confidence in myself and earning confidence from other leaders and parents to plan and execute multi-day trips hours away from home.
I'm really trying
not
to sound as if I'm wrenching my shoulder while patting myself on the back. But I'm pretty sure my son likely would not have joined Boy Scouts if I had not stepped in to struggle my way through a year as a Webelo leader to help him complete Cub Scouts . He and I both would then have missed the fun and growth experiences we've had the last few years. Instead of trying to sound like I'm grandstanding, I am thankful for having the chance to watch my own kid grow and assist in the development of other kids.
With immense pride, I've watched my boy grow from a 10 year-old kid who I thought might flame out his first few months of scouting to one who is now a few months, a project, and couple of merit badges away from being an Eagle scout. He's gone from being a introverted kid quite unsure of himself to an introverted, developing young man seeking and performing leadership roles and who is regularly complimented by other adult leaders for his maturity and the example he sets for other scouts.
Back in June, I
blogged
about the passion and commitment of my son's 80+ year-old scoutmaster and the admiration I have for him. He's dedicated over 50 years of his life, time, and resources to grooming young men. In addition, he is a World War II navy vet and a lifelong resident of the community that I've called home for only the last six years. Recently, he and I were simply chatting about the Pioneering merit badge he teaches every year or two. Next thing I know, an e-mail is sent to everyone saying he
and I
would be teaching it between November and March. Had anyone else just assumed I'd commit to this without direct agreement, I'd be pretty bent. But because of the appreciation I have for him and for what he's done for this country, for other young men, and for my son specifically, I'm all-in. I'm truly thankful for the opportunity to spend time with him learning from him and also teaching the kids.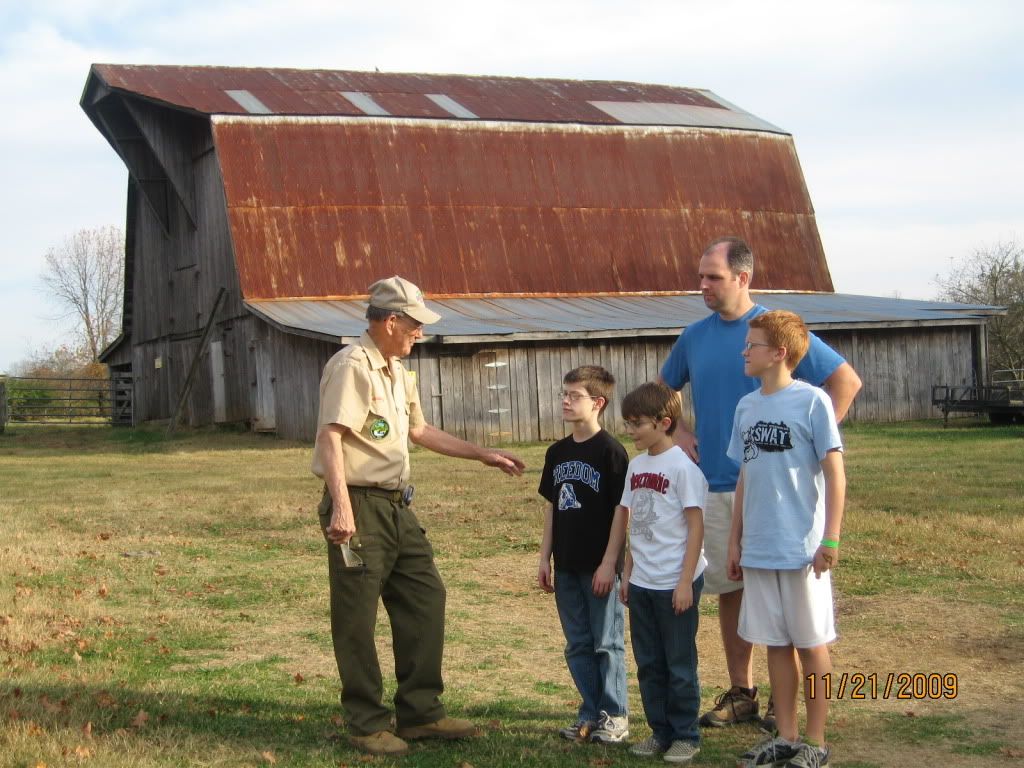 I didn't have the opportunity to participate in scouting as a kid other than one year of cub scouting. And serving as a scout leader certainly wasn't on my bucket list of things to do as an adult. Being involved with scouting, however, has been very rewarding. This old dawg has learned a few new tricks. Having the opportunity to work with these kids has been very cool and humbling for me - and hopefully a positive experience for them.
Test me baby. A shear lashing, a square knot, or a tautline hitch? Please, they're all mine. I own 'em. A kid who has never done more than 1 chin-up, built a rope bridge, used power tools, kayaked a river, spent a night in a cave or improved his grades from B's to A's in one grading period? Oh yeaaahhh, THAT is cause for celebration! High-fives, shoulder chucks and back slaps are the order of the day. I have no desire to be a surrogate parent for these kids nor the primary confidant of a young teen. It is awfully cool, however, when these young'uns connect with you and care enough to share some key accomplishments.
Tying this entry to my previous two "I'm Thankful For..." entries:
I'm very thankful my employer only allows me the flexibility of being involved with my son and other scouts as often as necessary.
I've built a lot of new friendships the last few years - both with other adult leaders and with scouts who I've seen grow from awkward kids to young adults.
I do wonder sometimes though if I maybe got involved as a scout leader simply because chicks dig a uniform. At least that was Ernest T. Bass' belief.
TMC