First, has it really been a year? I knew I'd taken a bit of a sabbatical from this forum, but I didn't realize it had been a full year. I've been active with my NASCAR/Schaefer beer-oriented
blog
, and most of my random thoughts are now posted in 140 characters or less on
Twitter
. But if you'd told me a year ago that this blog would fall off the grid, I'm not sure I would have agreed with you. Alas, you would have been right.
Second, enough about the previous paragraph. Move on vs. look backwards, right? A week from today begins perhaps
the
most anticipated music festival in the nation. No, not SXSW. To be honest, I'm not even sure it qualifies as a music festival anymore with all its movies, situational readings, seminars, commercial product releases, etc.
I'm talking about Couch X Couchwest that will officially run March 10-16, 2013. Some pre-show activities have already begun on Twitter and Facebook. And the chatter about participants generally continues long after the festival officially closes.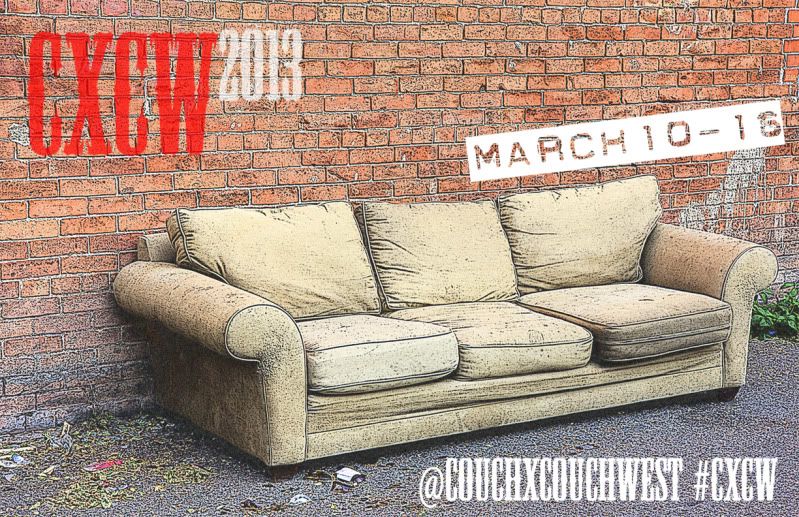 The diversity but simplicity of CXCW are its strengths.
Rather than travel to Austin (or any other festival locale), you get to enjoy the music from wherever you want - your couch, hotel room, local coffee shop, favorite drinking establishment, airport terminal, morning commute drive (not encouraged), etc.
You aren't a slave to a schedule. No worries about trying to be at two or more venues or stages at the same time. Just lauch www.couchbycouchwest.com and watch videos of performers whenever you want - and as often as you want.
Oh yeah! The performers. A few songwriters and bands I'd heard of such as Ray Wylie Hubbard, Gretchen Peters, Will Kimbrough and Jonny Corndawg submitted videos last year. But what I truly enjoy about CXCW is hearing artists and bands new to me with cool tunes and vids.
Looking for new accounts to friend on Facebook and follow on Twitter? CXCW is a great way to ID many of those.
Load up on your brew of choice whether it be cheap, mainstream, or local microbrew; prep or purchase your snacks; fire up your laptop, PC, or iPad; dress down; and slack away for a few days ... or evenings ... or just whenver.
Speaking of slacking, my cat Pumpkin certainly has that part mastered as he readies for CXCW2013.
So if you want to take in some great music, join me
where the beer is cheaper and the only hipster is you
. This year's on-line festival will run from March 10 - 16.
TMC