More from my cassette cases buried deep in a far away closet...
The Pontiac Brothers: Doll Hut and Johnson:
I found The Pontiac Brothers around the same time as EIEIO (see
TMC cassette memories - post 2
). Frontier Records released both of EIEIO's albums and The Pontiac Brothers'
Johnson
. As jangly as EIEIO was, The Pontiac Brothers was just raw and raucous ... and I loved it. I later picked up
Doll Hut
which was released prior to
Johnson
.
Johnson
was upgraded via a CD purchase. I also bought
Doll Hut
on CD though it was packaged on a re-release with another album,
Fiesta En La Biblioteca
. After the band dissolved, frontman and guitarist Ward Dotson formed
The Liquor Giants
- another short-lived but fantastic band.
Across The Yard - Self-Titled.
I have zero recollection of this EP or of the last time I listened to it. Sound familiar to you? If so, please leave a comment. Maybe a memory will be stirred.
Randy Travis - Storms of Life: I grew up in a house of classic country music though I quickly found my way to the rock-n-roll scene in my pre-teen and teenage years. Plus, in my opinion, country music in the 70s blew. The pop sounds of folks like Barbara Mandrell, Ronnie Milsap, Lee Greenwood, Anne Murray, Eddie Rabbit, etc. did nothing for me. My dorm mates and I rocked outlaw country such as Bocephus, Merle, Waylon, etc. Otherwise, I stayed mainly with my hard rock stuff.

Then one of my friends rolled into our apartment parking lot bumping Randy Travis' On The Other Hand from his Camaro Z-28. We were stunned by the sound, and I had to add it to my own collection. The album wasn't enough to convert me 100% to country, but it certainly led me to an eventual return to many of the country recordings of my parents.


The Coolies - Dig..?: I'm pretty sure I learned of The Coolies through db Records. db had so many great bands on their roster, and I'm guessing I was willing to take a flyer on just about whatever they had. Dig...? included punk'ish versions of several iconic Simon & Garfunkel songs.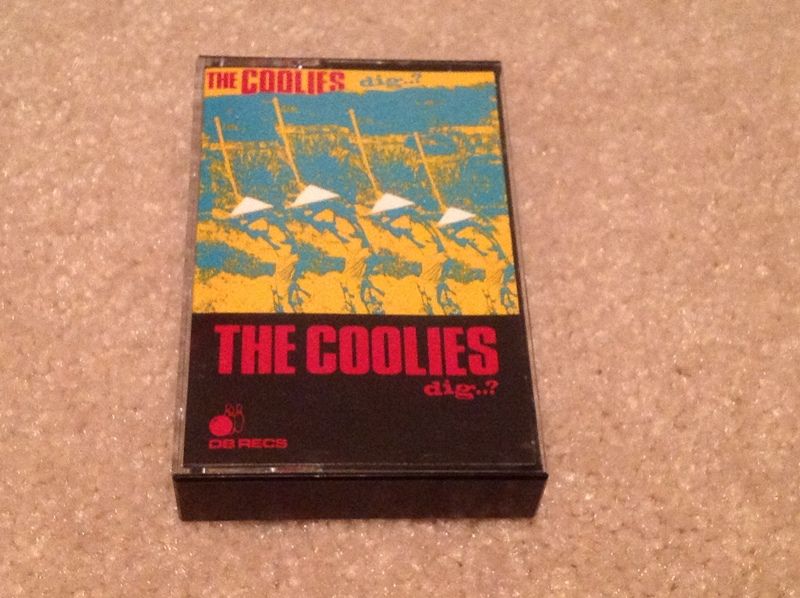 The Call - Reconciled:
I knew little then (or now) about this band. Their album didn't hit my radar when it was released. During a couple of years of post-college, early professional life, however, Friday nights were frequently spent drinking pitchers of beer and chair dancing in a Chattanooga cover-band bar called Yesterday's.
A crowd favorite was a band named Sheba's Breakdown. The band later replaced its lead singer and renamed itself The Hammerheads. The second version of the band did an incredible cover of The Call's
Everywhere I Go
, and that is what led me to get the cassette (and later the CD).
The Vulgar Boatmen - You And Your Sister:
As a college student at the University of Florida, Walter Salas-Humara was in a band called The Vulgar Boatmen (web |
Twitter
). He left the band and formed
The Silos
with Bob Rupe and others. The Boatmen continued with Robert Ray and Dale Lawrence as the two primary collaborators. After buying The Silos' self-titled RCA release and their previous album,
Cuba
, I started digging deeper to learn more info. Using the address for the Record Collect label I found on
Cuba
, I wrote a letter asking what else they had. I got a personal letter from Walter (which I truly wish I'd kept) and a list of what he had for sale. (I didn't realize at the time Salas-Humara owned the label.) Soon after getting Walter's letter, I sent him a check along with an order for a solo CD of his,
Radaris
, and the Boatmen's
You and Your Sister
cassette.
A few years later, I was more than happy to upgrade my oft-played tape with a CD. My inventory was enriched with the addition of the the Boatmen's second release,
Please Panic
.
Guadalcanal Diary - 2x4:
This is one of many bands to which my college roommate introduced me. Though we didn't see eye to eye on all of his faves, I'll remain grateful for his introducing me to bands such as R.E.M., The Connells, Jason & The Scorchers, Berlin, and others. But I digress...
As powerful as Guadalcanal Diary's music was, their live performances were off the hook. I saw them live three times on their Flip-Flop tour. The tour opened and closed in Nashville. Treat Her Right opened for them at the first show, and Government Cheese opened for them as the toured ended at Nashville's Cannery Ballroom. In the middle, I happened to catch them in Madison, Wisconsin while in town for a work trip.