Mea culpa: I started writing this entry last Tuesday, edited it a bit more Wednesday, and polished it today. As I edit/re-write it, I realize how shallow my story about cleaning a fence reads when so many folks got wiped off the map in Texas, Mississippi, Alabama, East Tennessee and other areas affected by this week's tornadoes. My deepest sympathies go to those folks and their communities as they figure out where to go from here.
A couple of weeks ago, I finally got my mower up and running for the 2011 Grass Cutting Championship Season. Its highly probable that will be my easiest 'honey do' list project of the year.
This week, I began one of the most time-consuming, brain-numbing projects. No - I'm not referring to the watching of the British royal wedding or an analysis of The One's birth certificate. The one home project I dread like no other is cleaning and sealing our cedar fence.
It takes me the better portion of 3 days to knock out just the cleaning part. Then I have to wait several days (or weeks) for it to dry fully so I can seal it. I've yet to find a simpler, more time-efficient process to get it done.
The project is not just time-consuming - its also dollar-consuming. Like a redneck at a poker machine, I throw good money after bad. Sure, I'll take
yet another
jug of cleanser. $16 per? Whatever. And sure, I'll take
yet another
5-gallon barrel of sealer. $150 per? Hey, what's money when it comes to the protection of my natural wood fence, right?
The only time I can recall really looking forward to cleaning the fence was 10 years ago. How do I remember that far back? I had requested 'vacation' days from work and allocated them to fence duty. The dates? September 12-14, 2001. I didn't look forward to the project at all - until September 11. The project gave me three days away from the world to clean and mentally wrestle with just about every human emotion - many times over - wash, rinse, repeat.
To help balance the time and money required, I've started stretching the number of years between re-sealing. For a while, I was cleaning and sealing every other year. Since 2005, I've chosen to go three years between rounds. Its definitely cheaper this way. When that third year rolls around though, the fence
really
needs a good detox like Charlie Sheen after a Vegas bender.
'Best practices' suggest I shouldn't use a pressure washer to clean the wood because it'll harm the wood's grain. Even the cleaner bottle says water from a hose should be sufficient. But that approach just gets the fence
wet
- not clean. I blast away with the pressure washer, and our fence holds up fine. I compare my efforts to drying towels. Some of our towels we've had for 10+ years. Even though we may remove a pound of lint from the dryer trap, the towels remain as fluffy and absorbent as they ought to be. On the other hand, some of our cheap towels, well... Let's just say as many times as they've been dried with a Bounce sheet, its like trying to dry off with a sheet of waxed paper. But I digress...
Before cleaning...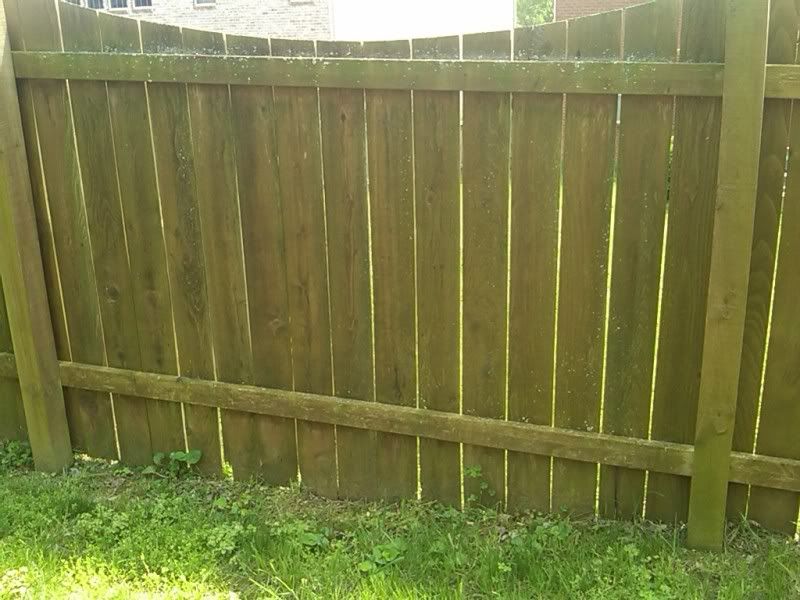 CLOSE-UP! Ewww...
After cleaning...sealer yet to come.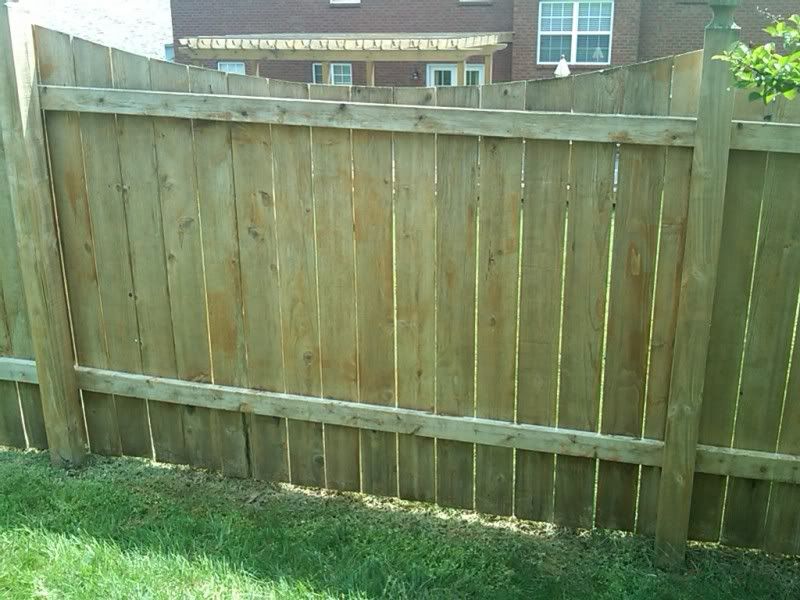 Comparison of TMC's work on the left and our neighbors' fence on the right...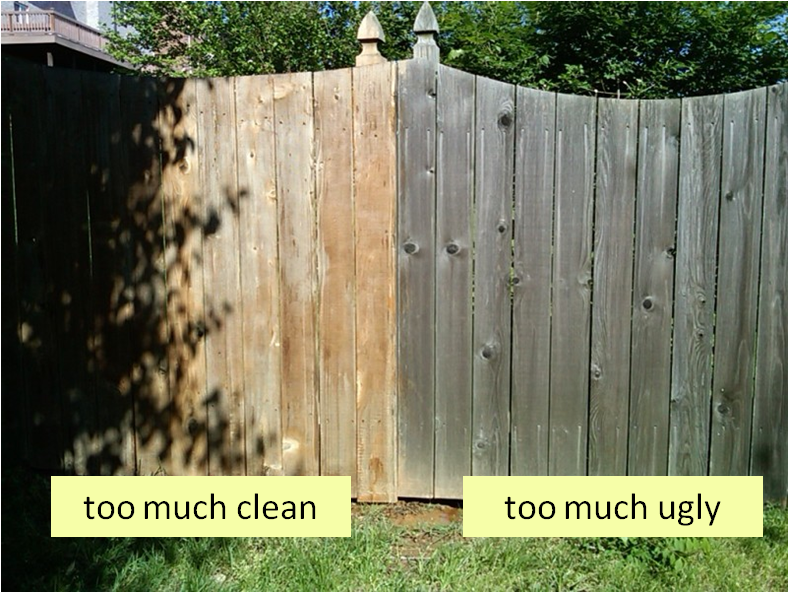 There is one thing I don't understand though. I sprayed all those mossy, mold spores with a commercial, bleach-laden, cleansing solution and allowed them to soak for about 30 minutes. Then I pounded the nastiness with a pressure washer - being careful not to make the mark of Zorro in the panels. Yet, even after poisoning the mold with chlorine bleach and who knows what other toxins AND giving it a direct shot from pressurized water, many spores still hung on to my fence boards. How do they do that? Its as if those Little Monsters had little mandibles and yelled to one another in support "Hold on boys!"
If your professional career title involves the letters 'ologist' or 'tist', perhaps you could help me better understand. I'd like to be generally informed because its pretty humbling to have your ass kicked by a mold spore.
One aspect of the cleaning sessions that made them bearable was all-day listening to my iPod. With a busy life, its rare to have an opportunity for an extended listening session. For whatever reason, I went to "S" music Tuesday. I played the following during Day 1 cleaning:
The Silos
Scott Miller & The Commonwealth
Sidewinders
Sand Rubies
Son Volt
Slaid Cleaves
The Steeldrivers
For Friday and Saturday, I stayed in the same general vicinity since S's were so rewarding.
The Rainmakers
Rich Hopkins & The Luminaros
Robert Earl Keen
Rodney Crowell
Todd Thibaud
Tom Freund
Tommy Emmanuel
The Tragically Hip
Walkenhorst & Porter
Walter Salas-Humara
As an example, playing an hour or more of Hip tracks like Little Bones definitely keeps you moving. If you can't get into this level of rock-and-roll, you might want to have friends and family look for your name at Legacy.com.
When all is said and done in a few weeks, I hope my completed triennial project will be analogous to a recently-waxed car. I hope it'll be 'shiny, shiny'...
TMC