Six months ago, I was beyond excited. After about a quarter-century, I saw Rush for the second time in my life. Some buds and I went to the Atlanta show, and I figured I'd pretty much book-ended my youth and middle-age with two memorable Rush shows.
Then last December - less than 90 days after the Atlanta show - came the announcement. About seven years since their last gig here, Rush was returning to Nashville. Despite having just seen them, I said "sign me up".
The Atlanta trip was memorable in many ways. However, consumption of copious amounts of Sweetwater IPA and other brands made certain aspects of the trip...um...uh...well, kind of
un-memorable (absence-of-memorable? fuzzy-memorable?)
. For the Nashville show, my buddy and I decided on a different approach. He bought a ticket for his 10 year-old daughter (this was to be her 3rd Rush show - that's just crazy on many levels). And I easily recruited my guitar playing turned percussionist 15 year-old son (nickname: toomuchtexting).
For a pre-show meal and enjoyment of (limited) libations, we opted for The Dog of Nashville.
Despite having been on record as planning to order The Barnyard, I called an audible at the line and went with The Fiery Redneck. toomuchtexting stretched his comfort zone and had no problems ordering and consuming the Y'all Dog.
By the time you order your dog plus a side of fantastic rings or tots, this gastronomic disaster can total up to an economic disaster considering the fractional
healthiness:caloric intake
ratio. But hey, it was Sunday. Guess what - 2 for 1 cold beer! Suddenly, the price of a hot dog dinner mattered not so much.
In Atlanta, we stretched our pre-show meal a bit too long and really underestimated traffic and parking conundrums. As a result, we missed the opening two songs. My bud and I were committed not to make the same mistake twice, and we decided to get to the arena about an hour early just to soak in the atmosphere.
Of course, the brutal reality can be summarized this way:
Get there early for what? Its not Southwest Airlines. Its a concert - we have a ticket for a specific seat.
There was no opener. Even if there had been, who were we gonna miss? Billy Squire's

Stroke Me

reunion tour?

Women watching? Please. Its a Rush show.

My interest in attending large-scale concerts has waned dramatically the last 15 years or so. I'm generally just not interested in paying big bucks for a show and even less inclined to stand in line at the merch table for a t-shirt who price is analogous to the cost of a Starbucks latte. However...this was no ordinary band or show. I was disciplined enough in Atlanta not to succumb to the ridiculous prices. With TMT in tow, we indeed stood in line and I dropped what seemed to be my mortgage payment for two t-shirts.
I took my camera hoping our seats would be reasonably close enough to get some decent point-and-shoot photos. What I failed to do, however, was charge the battery before I went to the show. I'd been on a trip to North Carolina two weeks earlier and had taken close to 200 photos. The flashing battery symbol was an in-your-face reminder of how I never re-charged the thing since my trip.
...red alert, red alert...
The boys in the band aren't a chatty bunch. An initial, knee jerk impression one
could
make is the band is just going through the motions with a corporate, perfunctory, get-it-over-with show. But that impression would be wrong. At this stage of their career (these guys are nearing 60 for crying out loud!), I think their giving folks a full show for the value of their ticket price is the best, professional, fan-friendly thing to do. After all, how many "How ya doin' Nashville!!" shout-outs does one need?
That's not to say Geddy didn't have a few things to say to the audience. Before playing their new song BU2B, Geddy acknowledged the band's "Nashville connection" with the song having been recorded here.
Geddy's voice was far stronger and on-the-mark at this show than it was last fall in Atlanta. Perhaps this was simply the result of Nashville being the 3rd show of this tour leg after a few weeks away from the road. Last fall's Atlanta show was the 3rd from the
end
of the U.S. tour. (Rush fans know too the band has an affinity for the number 3. Note I sat in seat 3 of our aisle. And I had 3 pre-show brews. And this was my 3rd time to see the band. And I never really liked #3 Dale Earnhardt. And...OK, I'll stop.)
After Geddy sang this couplet in
Marathon
...
More than just the bottom line
Or a lucky shot in the dark

.... a pyro concussive BOOMED through the arena! We had a big fella lumbering up the riser steps on our aisle headed for concessions, the bathroom or a smoke break. When that cannon shot ripped, he suddenly dropped and turtled like Sean Avery in a hockey fight. I half-expected him to scream "I've been hit!"
Listen for the pod burst between 15-20 seconds:
I was critical of camera angles and lighting at the Atlanta amphitheater show, but both were corrected for the 2011 arena shows. The production team delivered some unbelievably tight shots on frets, strumming, picking, thumping, etc. by Geddy and Alex. The shots of Neil from front, side and overhead were fantastic. We got a great view of his foot work on his high hat, double-bass pedals, cowbell, cross-over stick work, etc.
The camera also accurately captured what I believe to be Neil's paradox. His drumming looks so effortless - even though it isn't. He has few, if any, equals behind the drum kit, and its because of the ridiculous hard work and passion he puts into it. Yet, he visually looks a bit bored or disengaged based on his absence of facial expressions. That's nothing new - he's been that way for ages. But I guess it was more apparent to me because of the limited times I've been able to see the band's show.
The day before the show, my daughter and I did a bit of spring-cleaning to our garage. One of the items I reluctantly tossed was a Pioneer AM/FM/cassette boom box. I bought it in high school...
high school
...many, many years ago. I worked at Kmart, put the thing on lay-away and used part of my first few paychecks to buy it.
The last decade or so, it just collected dust in the garage. As a
pack rat
though, I couldn't bring myself to throw it away - until Saturday when I finally did. When the band played
Subdivisions
Sunday, a memory to the boom box connected. For some reason, I distinctly remember listening to Rush's
Signals
cassette tape on it. (When we got home from the concert, I dug it out of the trash can long enough to take the above picture.)
After the first set of a mixed bag of Rush hits, the band took about a 20 minute break of so and returned to play through its most-popular album,
Moving Pictures
.
My son seemed to enjoy the show. However, being a novice listener, he didn't recognize many of the songs from the front segment of the setlist. Nor has he really digested Peart's complicated lyrics. But he was on his feet, clapping and laughing as the familiar riff of
Tom Sawyer
began. A funny, video vignette played of a time machine gone wrong. As the band played, a video played behind them of three chimps playing along to it. And after all, is there really anything funnier than a drum-playing monkey?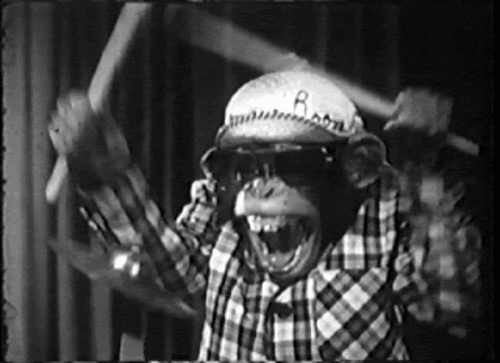 As has been well documented, there's never such a thing as too much cowbell. Peart didn't disappoint as he played his cowbell during
Witch Hunt
- with his
foot pedal
! For a moment, I thought it was a recorded drop-in track, but I spotted his foot work after looking more closely.
At some point in the show, I zoned out a bit from what was happening on stage and just soaked in observations of what was going on around me with the stereotypical Rush crowd of middle-aged white males. Conclusion: It never gets old to laugh at aging, balding, paunchy, white guys' attempts at "air drumming" where they are convinced every drum lick is to a cymbal crash.
Also, it was a bit painful to hear some guys around me attempt a sing-along with Geddy. The mouthing of the lyrics themselves always brings a solid laugh because several guys in the audience sang as if they were a mash-up of David Coverdale and Joe Dirt. The other painful aspect was hearing some of them challenge the same octave ranges as Geddy.
Guys, the professional is nearing 60, and he's challenged to hit many of the high notes night after night. You simply aren't going to hit them on a regular basis.
I began to wonder if some of them had asked a buddy to crush their cojones Johnny Knoxville style-before entering the venue just to take their mock-vocals above the (music) staff.
Another fave of my son that he hoped would be played was
Closer To The Heart
- an arena anthem if there ever was one. I already knew the set list, but I didn't tell him anything about it other than the entirety of
Moving Pictures
being played. We listened to part of
A Farewell To Kings
on the way to the arena, and he again said he really wanted to hear CTTH. He really enjoys Alex Lifeson's opening guitar work.
Needless to say, he was on his feet and hollering as Alex transitioned from acoustic solo to the opening strains of CTTH.
The second set closed with
Far Cry
from
Snakes And Arrows
. Its not a bad song, but its not a closer in my opinion. Geddy didn't set it up, they played it and then he yelled "Good Night!" as Neil rose from behind his drum kit. Just really awkward. But knowing the encore was yet to come, I didn't let that small oddity derail the evening. But its still weird and should probably be dropped. I'm just saying...
The encore selection was already known. Yet all roared when
Working Man
was played - reggae version and all. My pulse quickened as the song ended with a transition to
Cygnus X1
. Ohhh, PSYCH. It was just an opening riff tease - apparently one they'd used in past tours.
A great evening. Three hours of continuous music. I'll soon return to my primary musical interests of singer-songwriter, Americana, alt-country, whatever you call it, type stuff. But the memories of another show by the Canadian trio will definitely stick with me for a while. And I'm pretty sure my son will remember it even longer.
TMC