Before MP3s and other "soft" digital formats, we had compact discs. Though loathed by many, CDs have been the premium format that most closely matched vinyl in sound quality and the durability and portability of other formats, namely tapes.
I still have fond memories of listening to the few 8-tracks that I had - even though they were a rotten format. But I was front and center with cassettes. CDs have always had advantages over cassettes. But as compact as a CD is, they've never been as compact as a cassette that be easily slipped into a shirt or jeans pocket.
With tapes, man oh man the options of recording and sharing were fantastic. I was mainly a TDK SA-90 guy though I often bought and used my share of Maxwell XLII blanks as well.
But I bought my share of pre-recorded tapes too. Here are a few more that brought back memories.
Night Ranger - Dawn Patrol:
I remember seeing Night Ranger's video for
Don't Tell Me You Love Me
on MTV. I bought their cassette at the Record Bar store in Nashville's Hickory Hollow Mall. Then I got to see them in 1983 as the opener for KISS on the Creatures Of The Night tour.
Triumph - Just A Game:
I became a Rush fan in high school, and I continue to listen to the band to this day. Another Canadian power trio that hit my radar shortly thereafter was Triumph. I was fired up when I learned they scheduled a tour date in Nashville. I bought a pair of tickets at the counter in the long-gone Castner Knott retail store in the still-struggling Donelson Plaza. Sadly, the show was canceled because of "unforeseen circumstances". I knew even then it was code for low ticket sales.
The Royal Court of China - Self-titled:
Midway through my college years, one of my roommates began to clue me in to much more of Nashville's rock music. One band he'd heard
of
but not actually heard was The Royal Court of China. I remember buying this cassette as a complete flyer at Tower Records in Nashville. Incredible sound. I later replaced it with the CD, and it's a disc I still listen to some 30 years later. Joe Blanton fronted the band. Today, he partners occasionally with Warner Hodges (Jason & The Scorchers) and Dan Baird (Georgia Satellites) to perform as The Bluefields.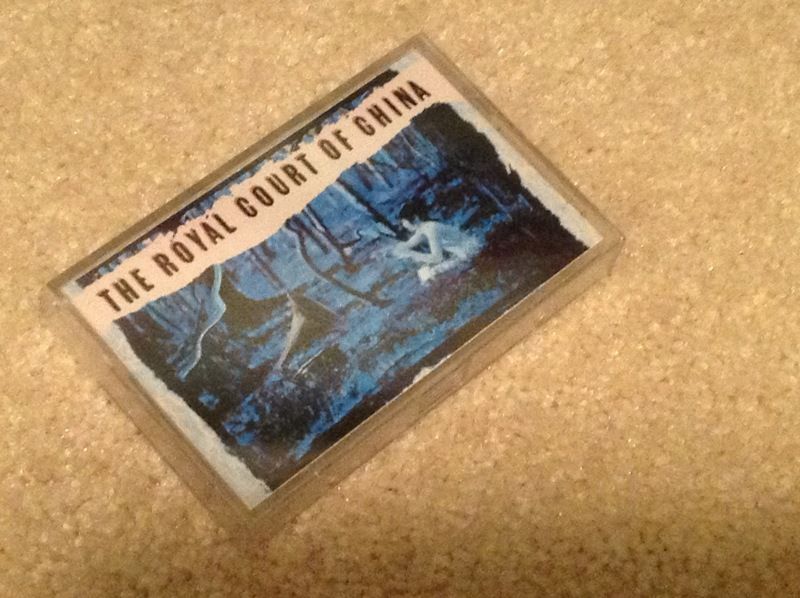 American Music Club - California:
I'm pretty sure Tower Records' Pulse magazine led me to this one as well. No samples, no radio play. Just a biased pitch in a record store-owned magazine. But I'm so glad I bought it (and replaced it with a regularly played CD). The album is chockful of great songs - all of which have stood the test of time in my opinion. Many are dark and haunting but yet so captivating. Faves to this day include
Firefly
,
Now I'm Defeated
,
Blue & Grey Shirt
, and
Western Sky
. This cassette led me to buy many future
AMC releases and Mark Eitzel solo albums
- all on CD. The
full California album
is on YouTube. If you've never heard it, take the time to do so. Highly recommended.
EIEIO - Land of Opportunity and That Love Thang:
As contemplative as AMC could be, EIEIO was just the opposite. This band's music was just flat fun listening.
Though I
don't
remember how I learned of the band (probably Pulse or Rolling Stone), I
do
remember the name of the song from
That Love Thang
that hooked me:
Andy Warhol's Dead But I'm Not
. While a great song with a catchy title, I'm not sure it's even the best one on the album.
Hey Cecille
, the lead track on
That Love Thang
, throat punches you from the jump. It sets the listener up for song after song with driving beats, nasal vocals, a horn section, solid harmonies, jangly guitars, etc.
After buying Love Thang, I backtracked to get the band's solid debut,
Land Of Opportunity
... and later bought CDs to replace them both. EIEIO was a truly underrated band that lasted just the two releases - or so I thought. I learned recently the band reunited for a third, self-titled album released in 2007 - almost 15 years after Love Thang.
Mike Hoffman
from the band later joined with others to form
Semi-Twang
, another fave of mine from near the same era.
Wild Seeds - Brave, Clean + Reverent:
I bought the Wild Seeds second and final album,
Mud, Lies and Shame
, on CD at Turtle Records. After playing it constantly in the late 1980s, I picked up the
Brave, Clean + Reverent
debut on cassette after I couldn't find it on CD. Though I prefer MLS over BCR, I did upgrade my cassette with a digital download a few years ago.
After parting ways around 1990, frontman Michael Hall released a series of solo albums - most of which I have as well as an underrated album with alt-country legends Alejandro Escovedo and Walter Salas-Humara of The Silos under the band name The Setters. Hall has also been a long-time writer and senior editor for
Texas Monthly
magazine and is on Twitter at
@mikehalltexas
.
To be continued...
TMC