3rd in a series...
To catch up those who may just now be starting here:
The crew quickly learned about multi-tasking: haul personal gear a couple of hundred yards back to the sound side, load it in the kayaks, dress in life jacket and spray skirt, and re-assemble paddles - all while trying to eat breakfast on the go with the occasional free hand.
We spent much of the day hopping from one duck blind to another up the sound to ensure everyone was doing OK and keeping up.
During one rest stop, I stepped out of my kayak in shallow water to drag it to marshy grasses. Almost immediately after exiting the boat, I sunk in silty muck up to my mid-calf. The muck decided it wanted my right sandal more than I did. The muck immediately snatched it off my foot and carried it below the murky waters. The sea bottom re-settled itself, and the shoe was never heard from again.
The armada paddled almost 10 more miles to land at Davis Ferry Fish Camp - including a row through a "shortcut". As it turns out, the waters in the shortcut were so shallow many scouts and adults had to tow their kayaks during a long stretch of it. The trip was a bit more scenic because of the twists and bends and the tall grasses, but it was strenuous to navigate.
Once again, we secured our kayaks on the sound side and hauled personal and crew gear several hundred yards to the beach side for another night of camping. The heat was searing, and the winds and sand were as bad or worse than the first day's stop. But... this stop had an unexpected and welcome addition - a bath house with showers! Everyone took at least one shower, some took a couple, and one of our scouts set the crew record with SIX SHOWERS in a 10 hour span.
The camp also had potable water. Just because it was potable, however, doesn't mean it was tasty. No one could quite put their finger on the taste, but almost all agreed it had a certain non-desirable "twang" taste to it. Because we needed fresh water to replenish our sources for the next day, everyone made the best of it. Many tried lemonade or fruit punch powder packets to help mask the taste.
Shelter to avoid the sun was at a premium. A few scouts and dads took turns hanging out on the porch of the shower house with two other troops kayaking near us. In addition, the screened-in porches of a couple of fish cabins were made available to us. This gave us relief not only from the direct heat but also from the incessant attack of green-headed biting flies.
The crew elected to prepare and serve dinner on the sound side under a small pavilion cover. Not only did it provide shelter, but much of the high winds and blowing sand were avoided as well. Our meatballs and pasta marinara dinner was superb.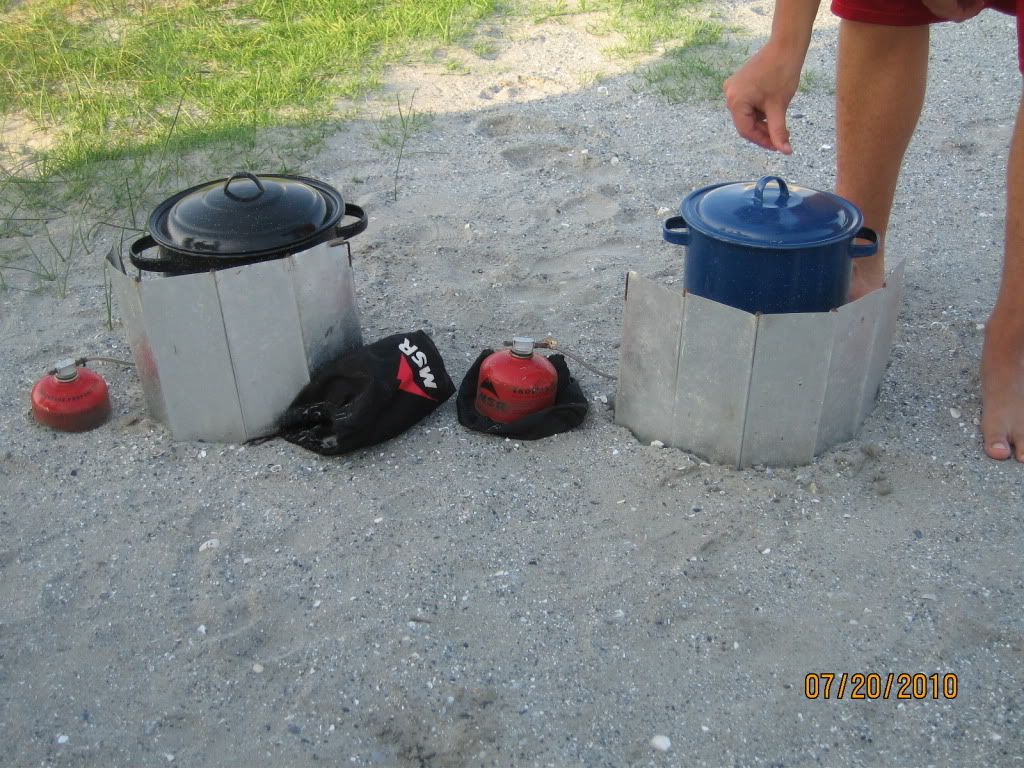 A fellow dad and I made cups of coffee by experimenting with a couple of different, portable, brewing systems. Despite the heat, the hot cup of caffeinated joe tasted tremendous after a long 2 days without it.
One of the kids used beef jerky in a bag to catch some small fish. He and a couple of his buds then used the jerky to catch an eel about 10" long. While that slimy thing looked pretty nasty, it was pretty cool they were able to catch it. And here I thought you could only catch hypertension on beef jerky.
The boy and his old man - its crazy how fast he's growing up.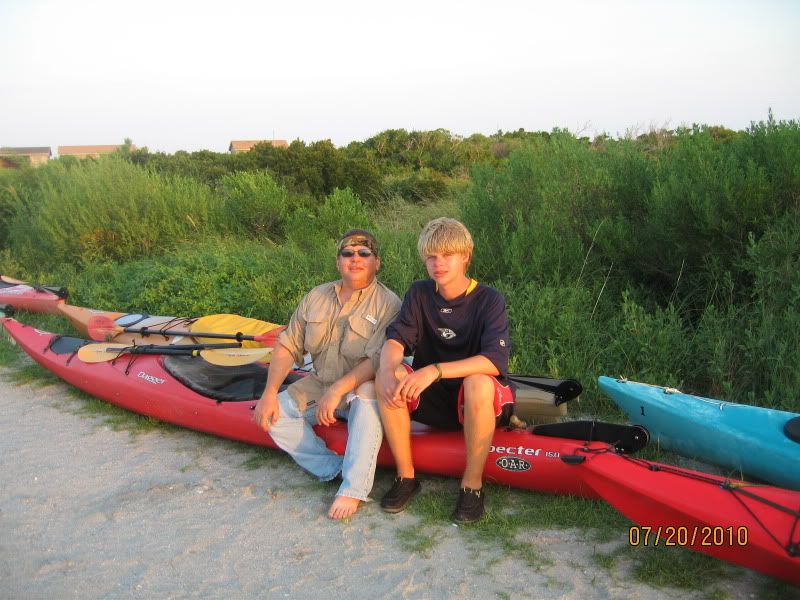 We watched the sun set on the western horizon of the sound side.
As the sun set, many of us once again powdered down in our tents to shed as much sand as possible. For me after two days of this ritual of using a ton of the stuff inside my tent, I began to feel like a white doughnut trapped in a cellophane bag!
TMC