2nd in a series...
The hospitality shown by the church we stayed in Saturday night was raised another notch Sunday morning. Instead of eating a heat-lamp biscuit at yet another fast food restaurant, several scouts and leaders from the church's troop prepared a pancake breakfast for our crew – regular and blueberry pancakes, sausage, fresh fruit, milk, juice, and hot coffee. What a great send off for our crew as headed for Pamlico!
For reasons still unclear to me, we were unable to do our pre-arranged self-guided tour at USMC Camp LeJeune. A visitor desk woman pleasantly suggested we should have arranged our visit with public affairs. I told her we'd been directed to a coordinator for youth activities, got parking passes from her, secured mess hall privileges for 2 meals, and was told we could take a self-guided tour of the base.
Her response? "Umm, well we haven't offered maps for the self-guided tour since September 11, 2001." Yes - 9/11 - nine years have passed and apparently
someone
hasn't bothered to update what visitors can/can't see while on base. Oh well, I guess their hands have been full taking care of things in parts of the world I have no desire to visit much less defend.
Instead, we moved on to a moving, walking tour of USMC memorials near LeJeune. The stop included memorials for those lost in Vietnam, September 11 terrorist attacks, and the
1983 USMC barracks bombing
in Beirut, Lebanon.
"The other wall"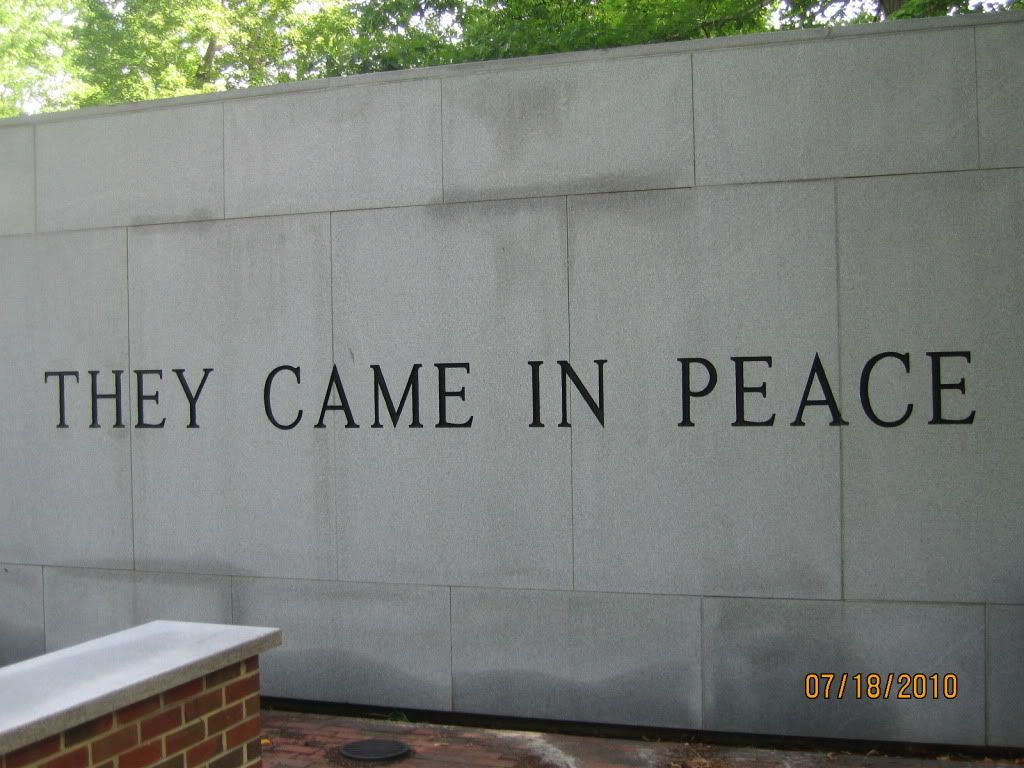 And the poem for it.
A beam from the fallen World Trade Center in New York City
Names of the dead etched in glass at the Vietnam War Memorial.
One of our older scouts was clearly bored. He thought he was too cool for anything, slurped from his 2 liter of Mountain Dew, and ass-dragged in and out of the vans wherever we'd been the last 48 hours. Rather than appreciate the memorials or try to develop any level of comprehension for the sacrifices they represented, he instead bitched about the heat and his general boredom. He quipped as we re-loaded the vans: "So where do we have to go next to dilly-dally around?"
You ever had one of those conscience-crisis moments where you really want to backhand someone but know you'll have hell to pay if you do? So I took a slightly higher road, glared at him and retorted "Well I'm sorry you are so bored friend. Perhaps you should complain a bit louder so all these Marines can awake from their graves and fight a little bit harder for your freedom to utter such crap." He looked at me with his half-closed eyes and yet a fully-opened jaw. I think he got my point.
Our base parking passes allowed us to visit other nearby USMC bases. We stopped at Camp Geiger Marine Corps Air Station to see if they would allow us to look around. An MP in a visitor office told us we could drive around the base provided we didn't get out of our vans. Once we got back in the vans we realized we weren't sure which security gate to pass through (there were several). I put the van in park and walked towards a guard shack while wearing my scout uniform. A Marine exited his post and walked towards me at a quicker pace than I was approaching him. He had his M16 machine gun across his chest. My encounter with Booger in Clyde NC suddenly didn't seem so bad.
But he didn't shoot me, I lived to see another day, and we passed through security just fine. We got to see several
Ospreys
parked on the tarmac and stopped at the airstrip fire station where the attending Marines gave the scouts an overview of their equipment and procedures for fighting fires involving burning aircraft.
A couple of hours later, we arrived at Pamlico Seabase. We were shown our tents where we'd camp our first night and were assigned our boating gear – kayak, paddle, splash skirt, and dry bags. Within an hour, we were at water's edge to learn kayaking basics. We paddled for approximately 90 minutes rowing together, rolling over, exiting the kayaks, and re-entering them.
Later in the evening, our troop gathered additional supplies: breakfast and lunch items for the days at sea, group meal supplies for evening dinners, cook gear, tents, stakes, and fresh water containers.
Only the most nutritious
... Tasty offerings were available for breakfast and lunch - Pop-Tarts, Cheez-Its, Honey Buns, Slim Jims, etc.
After breakfast Monday morning, the scouts loaded the kayaks onto trailers and boarded vans for a 2 hour trip to put-in at Harkers Island at the
Camp Lookout National Seashore
.
Here is Tony - a member of the Pamlico staff, van-driving / kayak-hauling / head-banging madman, and dreadlock-grower extraordinaire. That's 10 years worth of dread growing folks.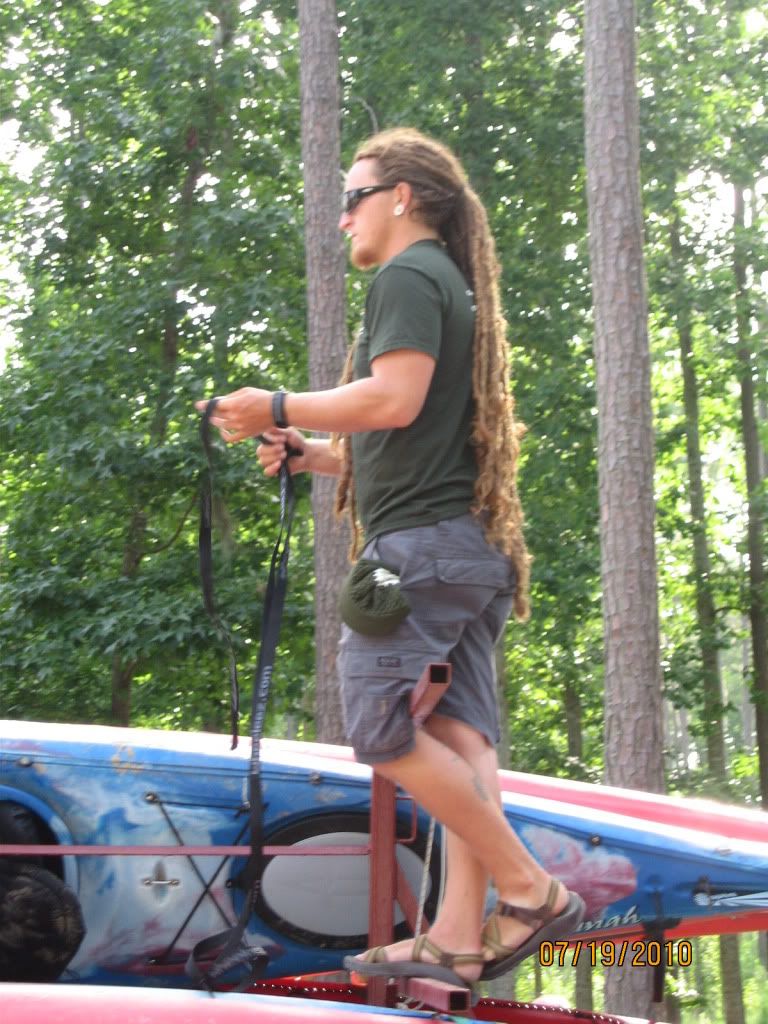 Right before we launched, everyone took a chance for a final bathroom stop in the cleanest restrooms we'd find for the next five days. As we were making our way back to our gear, one scout - my son's best friend - wanted to tell me something. He stopped me to say his dad texted him telling me thanks for taking him on the trip. He said his dad also mentioned he had a six-pack of beer as a gift for me when we returned. The first comment humbled me. The second part provided a tangible goal for me to get through the week successfully.
The crew launched in a ferry slip at Harkers Island. We rowed about one mile to a shallow, muck-filled marsh for a lunch break of summer sausage, Ritz crackers, hunks of cheddar cheese, bags of Cheez-Its, and Nutter Butter cookies. Junk food never tasted so good it seemed.
We rowed another couple of miles to our first camp stop for the day - Pavilion. The boats were secured with rope and various knots to dock pilings on the Pamlico Sound side of the island, and everyone hauled their individual gear to the other side of the island facing the Atlantic Ocean.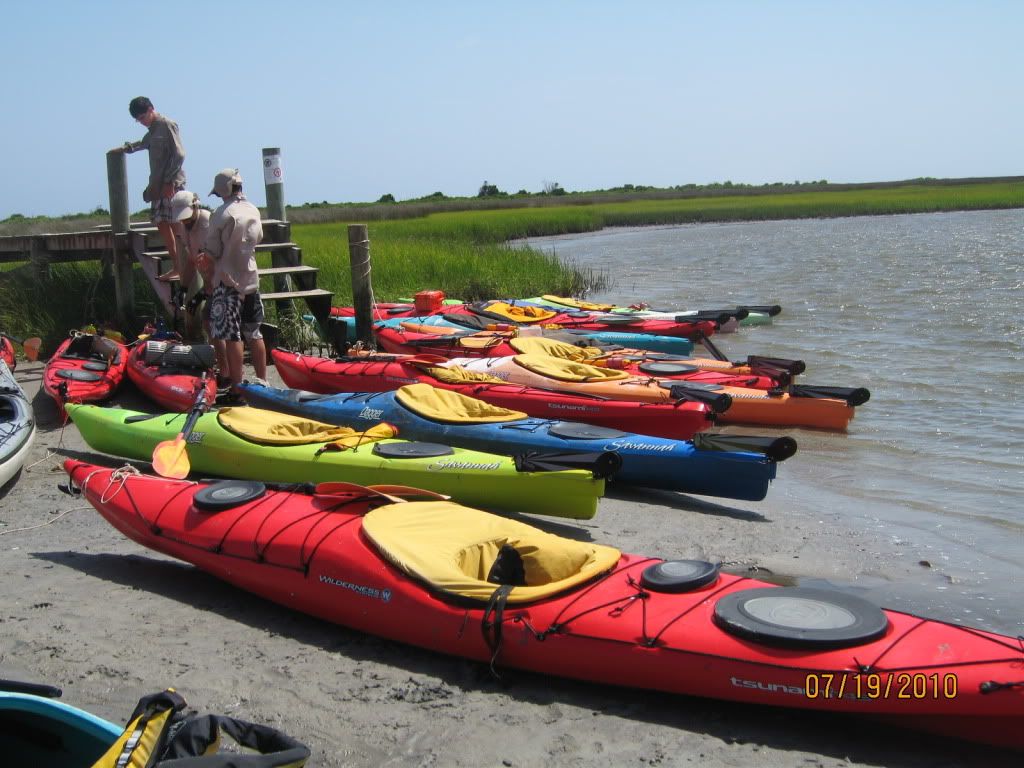 The beach front winds were remarkable, and sand strafed everyone's arms, legs, back, and face.
Once camp was set, most scouts played in the surf for about 4 hours until it was time to prepare dinner. The winds and rip tide currents were remarkable. The kids hit the ocean and within a matter of about 10 minutes were carried 300-400 yards northward.
My son and another couple of scouts prepared a hot dinner of chicken and rice in two cook pots over small propane burners with metal shields to minimize the risk of the wind blowing out the flame of the burners. Other than unintentionally but unavoidable sand seasoning, the hot meal was fantastic.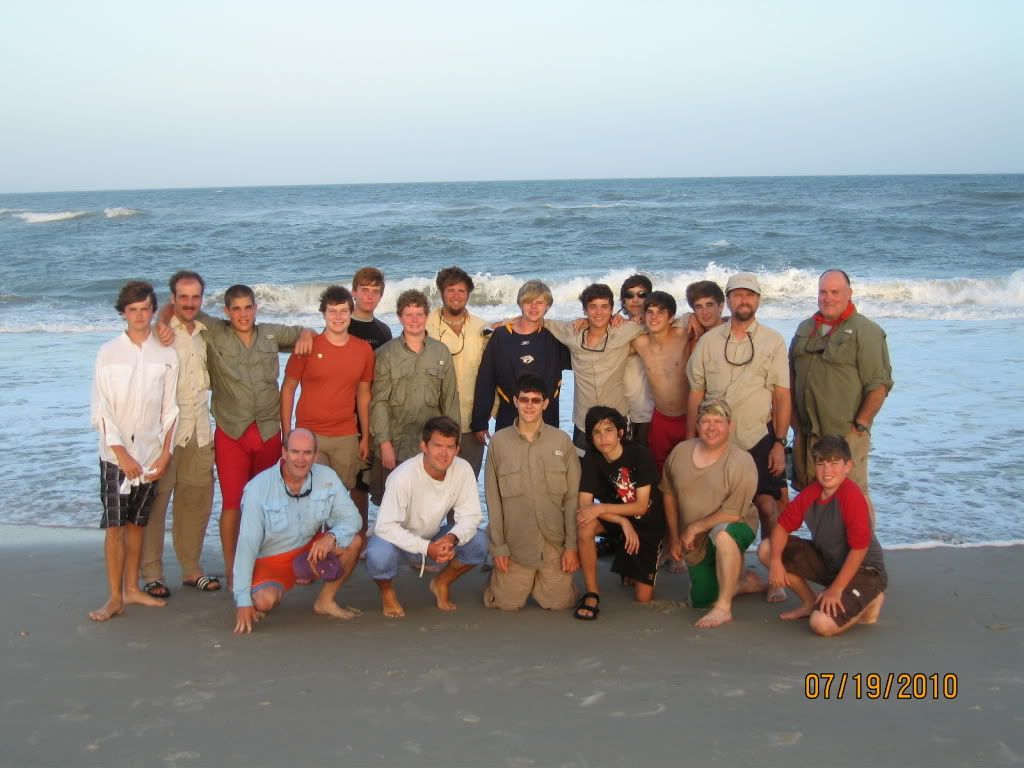 The scouts were then introduced to a game called Crazy Stick. Each player raised an oar over their head, looked straight up, turned around quickly 20 times, dropped the oar in the sand, and then attempted to jump over it. One of our boys jumped; however, he jumped sideways and corkscrewed headfirst into the beach filling his hair with sand. Everyone roared.
Many others took their turn - some falling before 20 turns, some missing the oar, and some completing it successfully. In the back of my mind I was thinking: This
clearly
didn't originate as a scout game. It had all the makings of a freshman fraternity rush event played with prodigious amounts of beer.
As the sun set, everyone headed for their tents. I took Tony's advice and patted down with generous amounts of baby powder - something I hadn't used I'm guessing since my mother used it on me when my age was stated in months rather than years. The powder had the great quality of shedding sand from the day. It worked!

TMC