A few thoughts from last week's trip to Kansas City, Missouri...
Driving
Nashville often gets tagged for having crazy drivers. But I've also been told most Nashvillians aren't from Nashville. So if we have bad drivers its because we inherit them from everywhere else. In Kansas City, highway driving habits are much different than here in middle Tennessee where we supposedly don't now what we're doing. In KC, folks hang out in the 'passing' lane at or just below the speed limit. If you approach someone in the left lane, they simply will not budge - no moving to the right and no acceleration to match the speed of the approaching car. Yet, if a car is in the right lane, they refuse to move to the left lane as they encounter cars entering the highway from an on-ramp. Both moves are courtesies in our neck of the woods - but neither to seem to be in effect in Mizzou.
Weather
My oh my, how nice was it in KC? In prior trips, I've often landed amongst dirty snow. And true to form, I even found a little bit of it again this trip.
But it was melting...rapidly. The temp was in the mid 60s on Wednesday and was up to the high 70s by late Thursday. What a marvelous early March.
Bob Walkenhorst and Jeff Porter
Went to Bob Walkenhorst's and Jeff Porter's standing Wednesday night gig at the
Record Bar
. Sat with a CD-trading friend of mine. Took him some Rush boots and got a few Rainmakers and Bob boots in return. Tossed back a few
Boulevard Pale Ales
. Ummm, umm.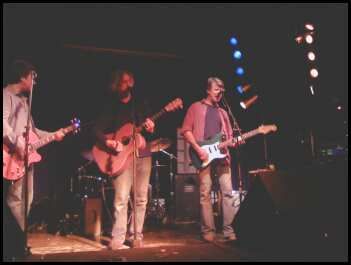 Talked to Bob a bit after the show. New CD coming soon from him & Jeff - with hopefully a regional tour later this year. While talking, Jeff (who I'd never met face to face) came up behind me and simply said "Too much country!" Either a reasonable guess after our e-mail exchange or comparison of my in-person look to my profile pic. Or an insult that I perhaps missed altogether.
Barbecue
Ahhh...Arthur Bryant's. I've eaten there before. I blogged about it. I ate there again. It did not disappoint.
Before:
After [burp...geez, excuse me!]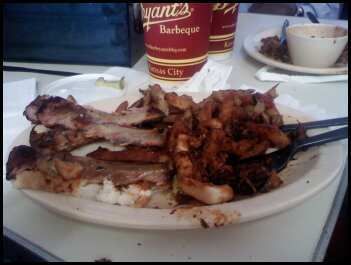 Next stop on the 2009 travel trail...New Orleans.
TMC