In 1966, Tompall Glazer and Harlan Howard wrote the much covered song
Streets of Baltimore
. The song has been recorded by many singers including one of my favorite, contemporary Americana bands...
Red Meat
, Charley Price, Gram Parsons, and
Bobby Bare, who was the first to have a hit with the song.
Last week, I made my second trip to Baltimore. I don't have a lot of memories from my first trip about 8 or 9 years ago. Nothing good or bad - just nothing memorable has stuck with me. I remember staying near Johns Hopkins and realizing for the first time Edgar Allan Poe once lived there. It finally connected with me why the team formerly known as the Cleveland Browns was renamed the Baltimore RAVENS. Duh, I thought. What took you so long?
This time, I was a bit more prepared for my visit. As I wrote at my racing-themed, companion blog
Bench Racing
, I stockpiled a large number of Schaefer beer memories while in Baltimore. But I noted a few other oddities while in town beyond procuring Schaefer beer.
Oddity No. 1: TMC getting a major award. The purpose of my trip was to attend a work-related training conference as well as lead a session on the uses, benefits, risks, and challenges of social media. I was humbled to receive not just one - but
two
- awards as the organization's session leader for my presentation at last year's conference and author of the year for an article I wrote earlier this year. This. never. happens. Very cool - very flattering - very humbling. (Despite the recognition, I must confess some disappointment. When I heard my name as the winner of a major award, I didn't think of an engraved plaque. I was thinking leg lamp!)
Oddity No. 2: The
U.S. Coast Guard Cutter

Taney
- the last surviving, floating ship from Pearl Harbor. Standing on the dock looking at this boat make you realize you are staring at history. Yet, because its the sole, remaining ship from December 7, 1941, I viewed the ship as a Baltimore oddity.
Photo source: Wikipedia

Oddity No. 3: TMC at a baseball game. I'm not a baseball fan. I don't hate it, but I just don't like it. For many years, I kept up with it from a distance just for casual conversation. Who are the division leaders? Who has the most home runs this year? Who has the hot hand on the mound? But no more - I really haven't followed it much at all. I love NASCAR, the NHL, and college and pro football. But baseball? Ehhhh. Generally speaking, however, I will concede I enjoy a night out at a ball park more than I do a game at a football stadium or hockey rink. And what a perfect early fall evening it was to visit Camden Yards.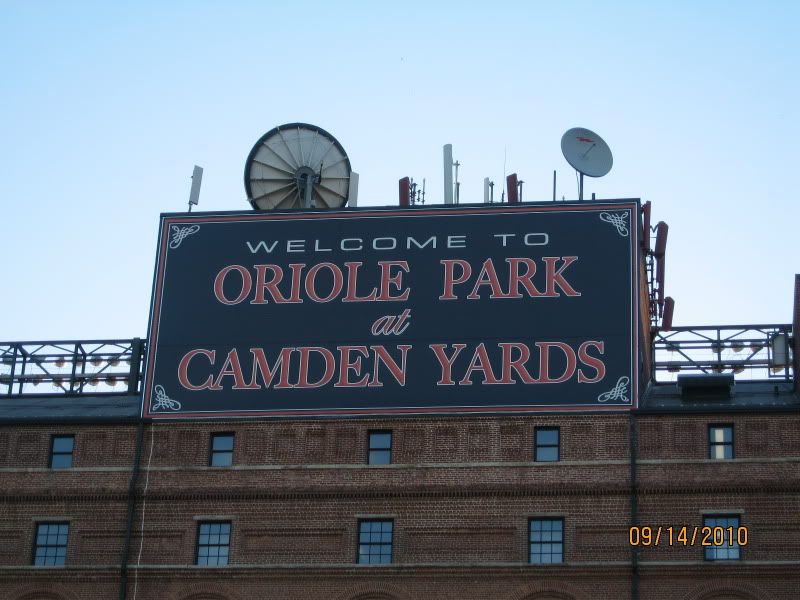 Oddity No. 4: Big bats by the Orioles. For a team that hasn't exactly piled up the W's in recent years (trying to be kind here), the Orioles plucked the visiting Toronto Blue Jays with 11 runs.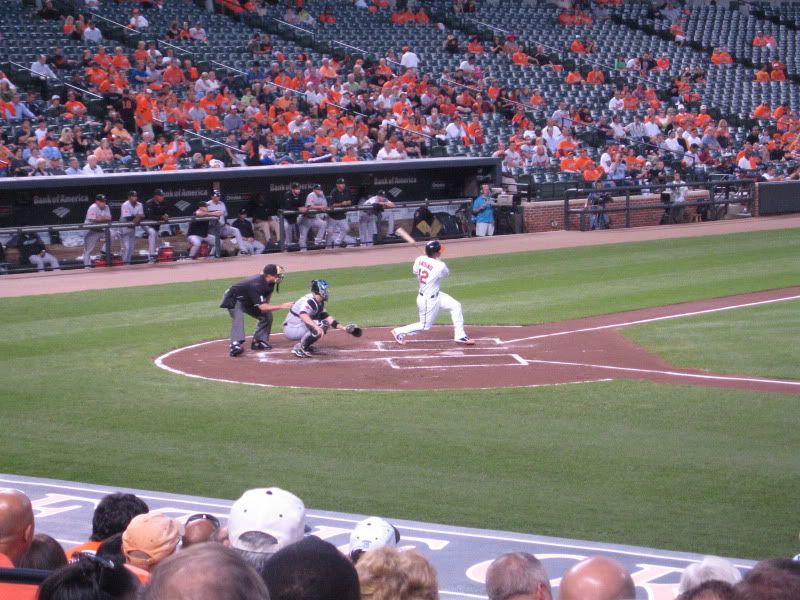 Oddity No. 5: Solid pitching by the Orioles. Baltimore's pitchers scattered only 3 runs over the nine innings. New skipper Buck Showalter has the team believing it can win. (Oddity 5a: With all things having a Nashville connection, its worth noting Baltimore manager Showalter played minor league baseball with the Nashville Sounds about 30 years ago.)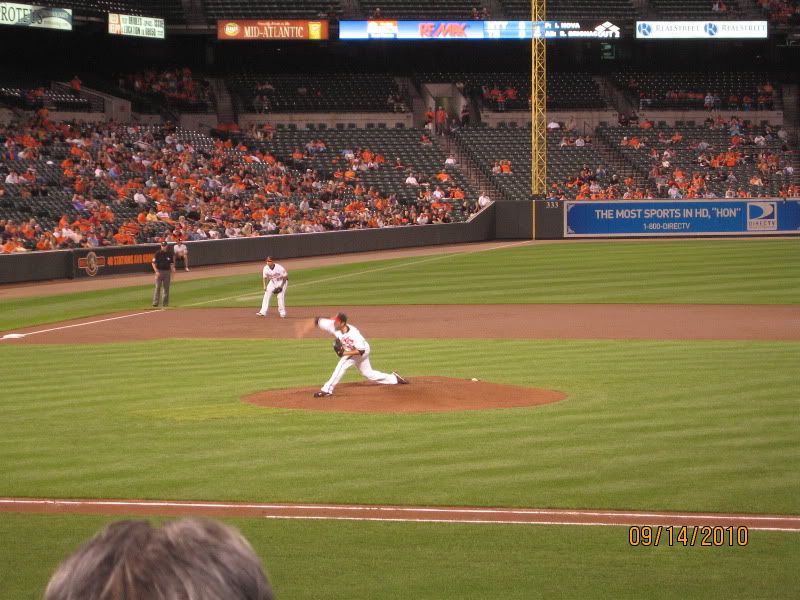 My hotel was on Light St. near the Baltimore harbor. I spent part of my Sunday afternoon walking along Light St., observing the businesses, surveying restaurant menus, and looking for package stores selling Schaefer. Based on the following oddities, perhaps it should have been called EnLIGHTenment St.
Oddity No. 6: Elvis' Tex-Mex. I really wanted to eat lunch at this place based simply on the name, Sadly, however, the place was closed on Sunday when I arrived. I wanted to find out if they served a fried peanut butter and banana chimichanga.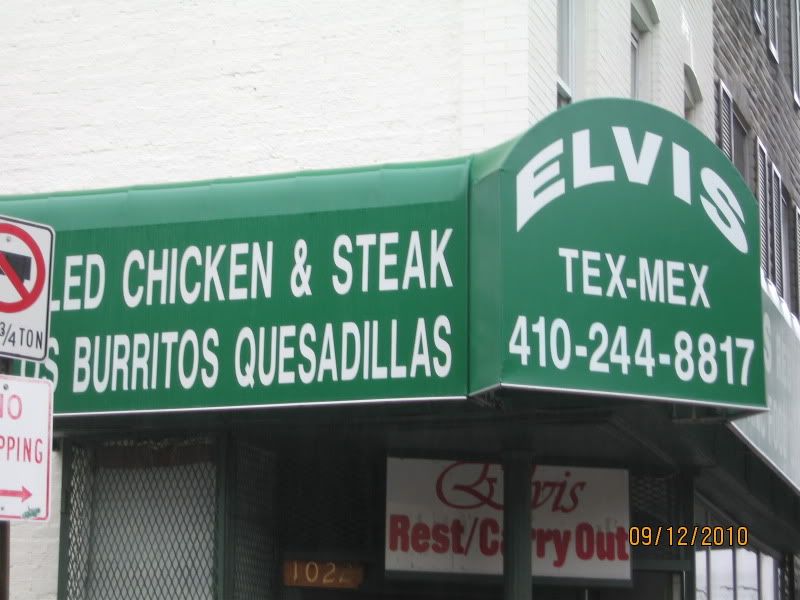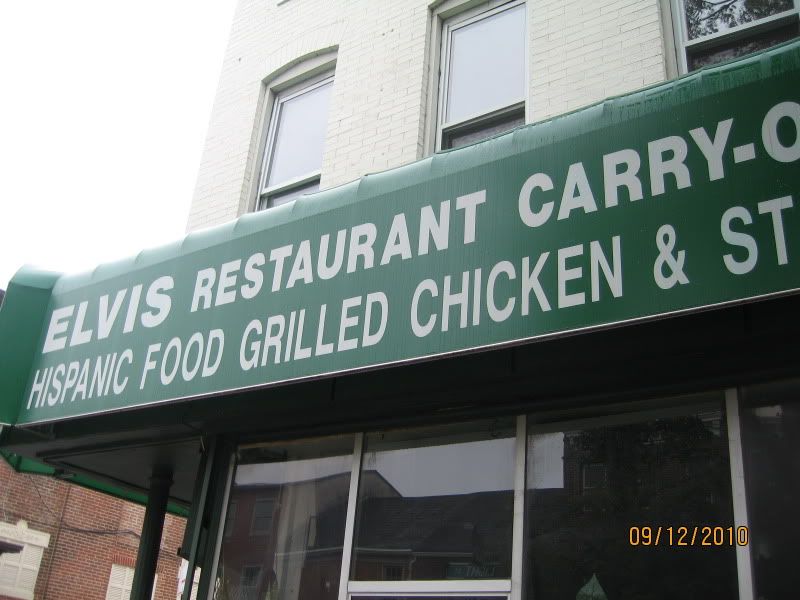 Oddity No. 7: Doggie Style. This place was open. I didn't enter. I do find it interesting, however, how they're trying to catch the consumer's eye with the reverse second G. Isn't that an example of marketing overkill? And what's with "grooming" as the smaller font disclaimer? Once you've gone gutter with your store name, is there a way to come back from that?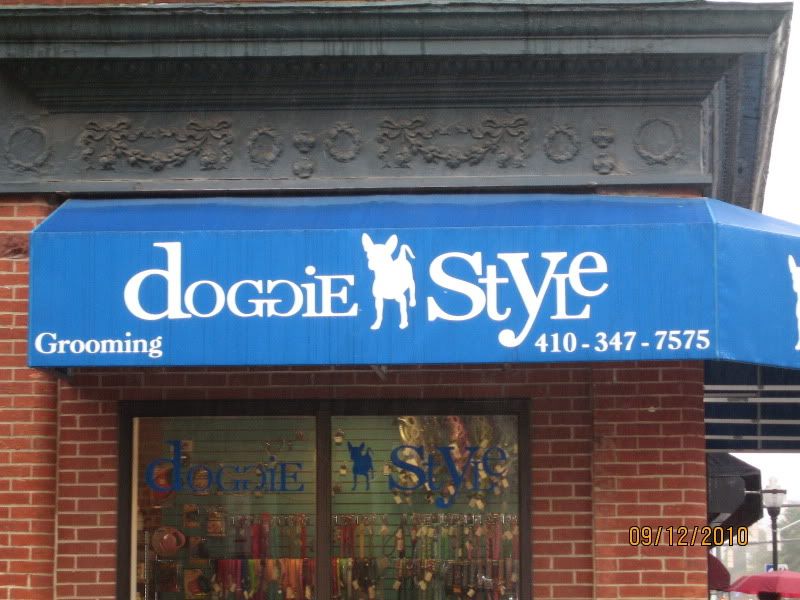 I'll end it here since seven is an odd number. Kind of an odd ending wouldn't you say?
TMC