Fall break for my kids' school is in mid-October. As a general rule, we're a "staycation" family for fall break. The family just hangs out at home, the kids might have a sleepover with friends, they might take a mini-trip to my in-laws, and I generally just continue to work - either at the office or on a "honey-do" list around the house..

A couple of weeks ago, I thought maybe we'd mix it up a bit this year. Take a mini-vacation. Head to the Smokies. To Destin. To St. Louis. Whatever. So I pitched it, but my idea was DOA. My son already had a scout trip planned that weekend. My daughter had a doctor's appointment on one of the two days she was out of school. Yada yada yada.

I didn't bail on the idea completely. Kind of just retreated and thought a bit more about it. And then Tuesday, it hit me.

Since my first proposal, my son's first scout trip was cancelled but then replaced with another. My daughter's doctor called to say their appointment software screwed up, and she was double booked with another patient. (Always the software - never the registrar.) So they moved her appointment and freed up her day. And the wife generally enjoys an empty house.

So last night, I proposed to take my daughter to Chicago for a couple of days while my son is on his backpacking trip. Win for him as he gets time outdoors. Win for the wife as she'll have an empty house. Win for my daughter in getting to do something fun (I hope). Win for me in scoring major points with my girl.

Among things I've brainstormed to do in a 2 to 3 day period are :

the Sears Tower (perhaps including the new *gulp* observation outcrop skydeck).
The Buckingham Memorial Fountain in Grant Park (where I hope to sing the words to the theme song for "Married With Children")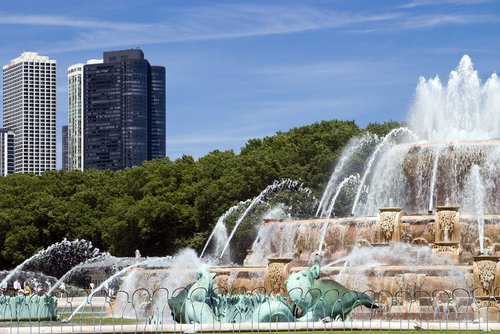 The Blue Man Group show
Ferris wheel at Navy Pier
And as painful as this is to type...the

Date With Dad

event at the American Girl store.
So the idea seed has been planted in my own mind and shared with the wife. It has not yet been discussed with my daughter yet because here is the dilemma I face.
I'm cheap. Frugal. Tightfisted. I like to travel...for work. I enjoy trying different foods and booze...on an expense report. I like a variety of entertainment options...when I can get comp tickets.
This mini-weekend idea of mine may well cost me a grand with 2 airfares, show tickets, American Girl tea and souvenirs (blech...), 2 hotel nights, meals, etc.
Let me hear from you. Chime in here. I need to hear from my peeps like never before. Spend the jack for a weekend with my 11 year-old? Or hold onto it and just do something fun locally?
Comment early and often as time is of the essence.
TMC