The first entry I posted to this blog not quite three years ago was about the
loss of my dog
. Its not as if his passing had just happened. He had been gone a few years - but I tried to convey how much I still missed the ol' hound.
A couple of months ago, I sent the link to a co-worker. She read it, paused and then said something to the effect of "well, that's the most depressing thing I've ever read" to which I replied "that's kinda what I was going for."
With that as background, I've been thinking about how to re-visit the subject but spin it to the positive. So let me give this a shot.
I got my pup on Mother's Day 1992. We were living in Chattanooga, TN at the time, and I went to Nashville for the weekend to visit with my folks, kiss my mother on the cheek and wheeze with red eyes as my dad filled the living room with smoke from his hand-rolled cigs. We'd hit that point of the visit where the three of us kind of just sat there in silence. My mother was likely pondering what to prepare for the next meal, my dad was gently rocking in his recliner and I was cruising through the Sunday Tennessean - including the want-ads.
Growing up, my sister had a dog. Daisy was a dachshund-beagle mix. I played with her, but she was definitely my sister's dog. Throughout junior high and high school, I took care of 'my' dogs by living vicariously through others. I took care of neighbors' dogs all around us as they took various weekend and vacation trips. Sometimes I was paid a little bit - sometimes not. But I didn't really care because I simply enjoyed time with the pooches.
When I finally got a house of my own, one of the first things I wanted was
my own dog
. As I flipped through the classifieds that Sunday morning, one posting jumped off the page: Labrador-golden retriever mix pups for $25. (I would've clipped the ad and kept it if I could've foreseen blogging back then.) I called the guy, he said the pups were still available, and off my brother and I went to get me a dog.
7 weeks old. 5 pounds. Slept on the front seat of my Toyota Corolla all the way back to Chattanooga.
To provide some context about size, here he is very much interested in my wife's dwarf rabbit.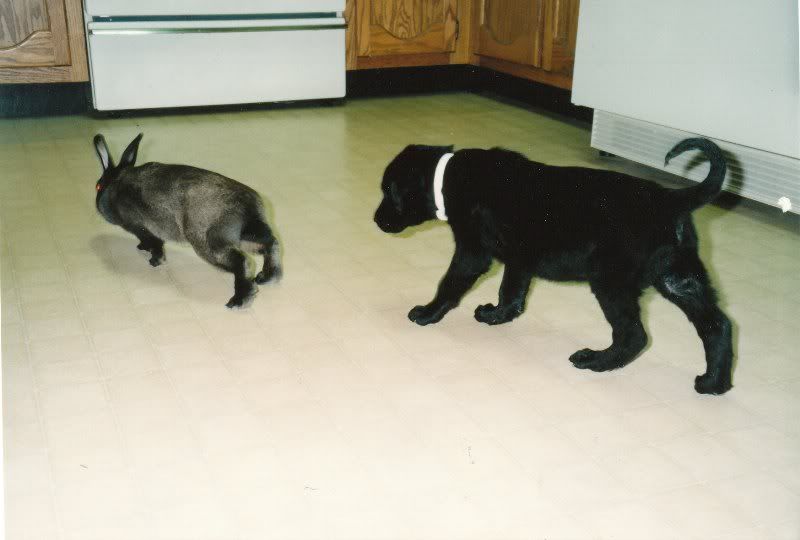 Sleep was the name of the game in the beginning.
It didn't take long for that 5 pound pup to hit 35 pounds - and then 50 pounds - and then eventually around 80. As he rapidly gained weight, I'm pretty sure it was concentrated in his legs ... and his tongue. He often had the funniest facial expressions.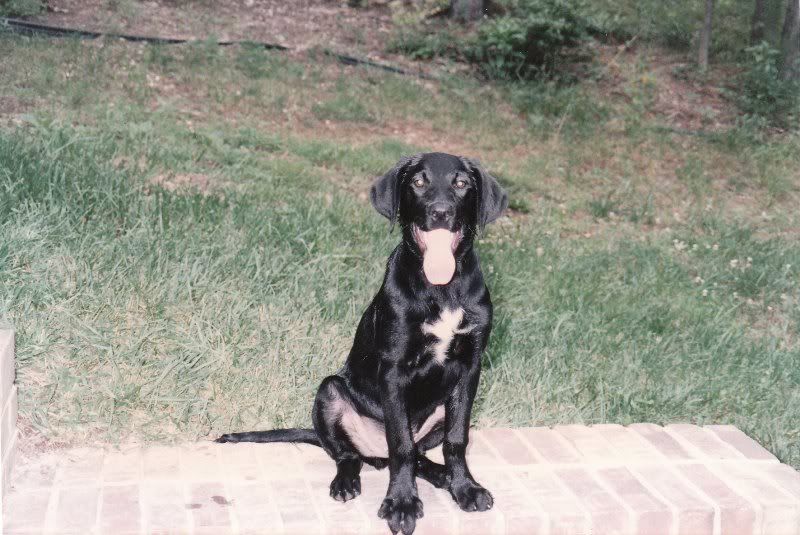 For a couple of years, I took him to have a Christmas picture made. The cost went towards a pet rescue organization or something like that. Like kids, it was damn near impossible to get him to look at the camera at just the right time. Fortunately, a quick treat was enough in this instance to freeze him for just the right snap. Both years, I took him and our neighbor's golden retriever. As a reward after the photo shoot, I fed them Krystal hamburgers in the parking lot as people drove by laughing.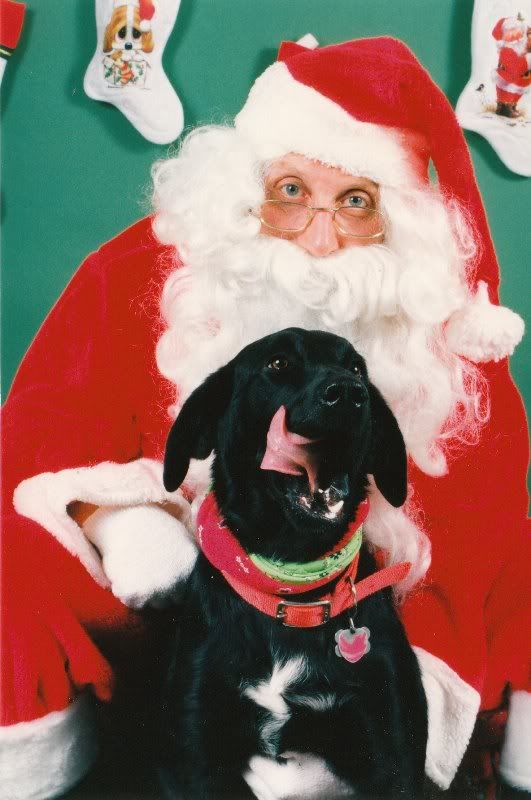 For the first few nights we had him as a puppy, I tried to follow the advice of books I'd read.
Put the puppy in a cardboard box, add some towels and a stuffed animal, and include a clock to simulate the mother's heartbeat. This will help ease any separation-anxiety the puppy may have.
Baloney. Despite doing all that, Winston whined worse than my trying to beg out of my annual prostate exam.
After only a night or two, he figured out how to jump high enough to crush the edge of the box to escape.
So then he was moved to a half-bath - where he proceeded the claw the crap out of the sliver of carpet showing between the bonus room and the bathroom vinyl.
Then he got booted to the garage on a pile of towels - that he destroyed within a matter of days. Not learning a lesson from this incident, my wife reasoned he might like having one of those fluffy cushions from L.L. Bean, Eddie Bauer, or whatever it was. "Umm, really?" I asked - "How much is it?" Just $50. *sigh* It lasted 90 minutes - long enough for us to put it down, go to dinner and return to a smiling pup sitting amongst shredded poly-fill and fabric.
From there, he was incarcerated in a chain-link dog run in the backyard for overnight stays. He loved being there during the day so it only made sense he stay there at night too. Or so it seemed. After a few months, the remnants of a Gulf hurricane hit in the form of a bad thunderstorm. Winston went ape in his pen as the rain pounded and thunder boomed. I had barely cracked the gate open when he smacked it against me and made a bee-line for the garage - which is where he stayed pretty much at night for the next 5 to 6 years.
As a last resort, I built a simple wood box and filled it with cedar shavings to hedge against fleas. Who woulda guessed it? After all that trial and error,

this

was the fix. Not only did he enjoy it, but the neighbor's Krystal-eating golden, Jazz, enjoyed it too. She ended up spending more nights in our garage than she did at their house for the rest of the time we lived there.
As a labrador, he did a pretty nice job of learning to retrieve. He
excelled
, however, at keep away. After getting whatever ball I threw for him, he'd go get it. But he enjoyed baiting me into taking it from him vs. quickly bringing it back for another round. The only exception to this was if I disappeared. If I threw the ball and quickly ran inside, hid behind a car, etc., it would drive him crazy trying to find me.
But one day, my attempts to outwit a mutt nearly put me on the disabled list. See the 4x4 post in the picture below? One spring afternoon, I zinged the ball out the garage, and he took off like a shot. To play my trick, I turned to head for the door to the house. Except...I misjudged where I was, turned, and ran full-force-face-first into that post. I remember laying on the floor with his licking my face - however, I don't remember getting
to
the floor. No blood and no double-vision. Just dog slobber on my face. So all things considered, I was very lucky. Dog 1, TMC Zero that day.
Some of the neighbors called me Maestro after I trained many of their dogs along with mine to sit orderly, shake and await their milk bone. I was like the neighborhood milk bone crack dealer. There are only 3 dogs in this picture, but there were three others who also knew where I kept my stash - and what it cost to get one. A paw shake without teeing off on another dog as they got it.
Once Winston was booted to the pen and garage, he was an outdoor lifer. He had those rare occasions, however, when he'd get a bath and be allowed for a brief time in the house. His ability to understand was uncanny. He used his "inside voice" and always acted as if he belonged there. I'm sure it was a lobbying effort on his part to make his stay full-time.
When our son was born (who turned 16 about 10 days ago. sigh...), I let Winston in briefly to see how he'd handle things. No growling, no barking, no biting and frankly very little sniffing. Instead, he instinctively bonded by laying down and enduring whatever tugs or drooling was to come his way.
He minded his manners inside and understood his life was outdoors. But his
favorite
time seemed to be those rare times in Tennessee when it snowed. The deeper the snow and colder the temps - the better he liked it.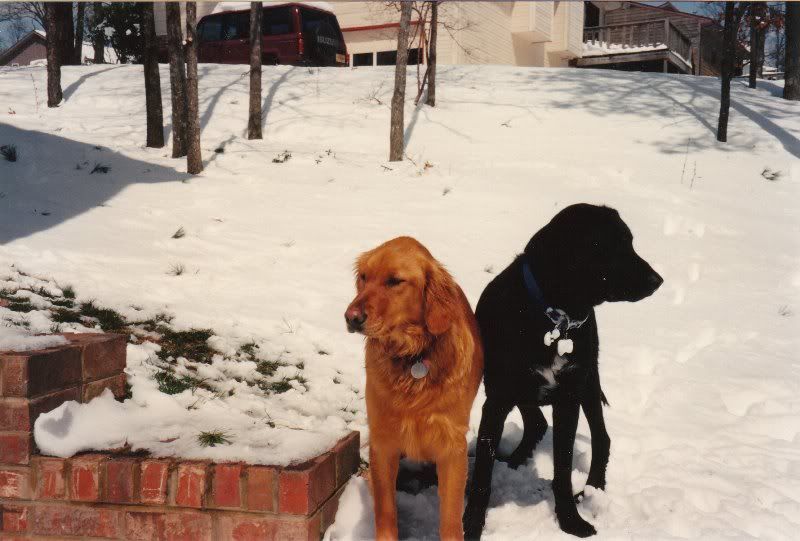 In 1993, Chattanooga got a snow for the ages - about 2 feet. A day later, the temps plummeted. What started out as a fun time for sledding and such turned into a
hmm, well this could get interesting
experience. We lost power for 2 days and quickly burned through what little firewood we had left. But while we tried to conserve energy, think how we'd salvage frozen food, and wonder how cold it would be while we slept, Winston ran non-stop from sun-up to sun-down. With a 24" thick white blanket, it was easy to spot his black goat galloping from one yard to another.
He was such a wonderful pet. 13 years. Lots more memories that could be shared here. Maybe I'll blog another handful in the years to come each Mother's Day weekend.
Hopefully, this entry was more uplifting than the one I wrote a few years ago. I know I smiled a lot as I scanned the various photos and thought about so many fun times.
TMC