In June 1987, I began my first professional career in Chattanooga, TN and immediately built some new friendships - a few that still exist to this day. In June 1988, a young lady began at the same office, quickly hit my radar and later lowered herself to marry me. From mid-1987 and into 1989ish, my friends, my girlfriend and I spent many Friday nights listening to cover bands and drinking beer at a long-since-gone joint called Yesterdays.
In 1988, Michelangelo's Pizza opened near Yesterdays. It was a good lunch place for us during work hours, but that was about it. Until. The manager started booking bands - regional, touring bands with original music. We loved the vibe of Yesterdays, but I really started getting into Michelangelo's as they booked such bands as The Connells, Stealin Horses, Royal Court of China and ...
The band then ...
My girlfriend / later wife and I have never really seen eye-to-eye (or heard ear-to-ear as the case may be) on the same type of music. As a general rule, I'm a below-the-radar, not-on-radio music fan. She's always been about the top 40 pop crap and can listen to the same drivel over and over and over and over and over. But she even liked Cheese cuts such as Fish Stick Day, Mammaw Drives the Bus and Yellow Cling Peaches.
A former roommate of mine, she and I saw the band a second time in Nashville. The band opened for Guadalcanal Diary at
The Cannery Ballroom
. Its one of the most ironically-named music venues in the city as its just a big ol' warehouse room with columns in it. But that night, I remember the place was PACKED. The columns were our oasis. If a bit of breathing room was needed, you just shuffled over to a column because each one seemingly had its own personal buffer zone that folks respected.
The third and final time I saw them (until last Saturday) was at a Chattanooga pool hall called Shooters. (The place ran a very dumb ad:
Come see your favorite sporting events on the area's largest 10' TV screen.
) I don't remember a lot about the show except they had the band on a platform stage a good bit above the main floor level. It gave singer Scott Willis all the room he needed to leap from the stage with his microphone and sing amongst the crowd below before climbing back up to re-join his band.
Then they were gone - or maybe I was. The band lasted another half-dozen years I think, but I didn't get the fourth opportunity to see them. In recent years, however, the internet played out a wonderful scenario. I Googled the band, found lyricist-singer-guitarist Tommy Womack, cold-emailed him, revisited some of my memories from those shows, and closed with something lame to the effect of "well, thanks for reading".
To my surprise, he replied within a day, said he remembered those shows and thanked me for contacting him. That led me to purchase all of his CDs and see him perform live probably about a dozen times and counting. I also credit him for introducing me to the music of Todd Snider about 7 or 8 years ago. He was headed somewhere to play bass in a band to back Todd. I had no idea at the time who Todd was but figured I'd give his music a shot. A pretty good tip TW.
About 20 years later, I got the opportunity to see the Cheese a fourth time. Late last year, Womack released a
2-CD anthology of Cheese music
- songs from their four commercial releases, alternate recorded versions and live tracks from a show in Kentucky in the early '90s. In support of the CD, the band reunited for a
World
... err...
Nationwide
... umm... I-65 Tour consisting of... well... just two dates. One for each of the CDs I suppose. The first gig was in Bowling Green, KY, and the second and final one was last Saturday night at The Rutledge in Nashville.
I intended to take good show notes for this entry. I took a pre-printed "set list" of Cheese songs in alphabetical order and planned to number them as the night progressed. Apparently, however, the pen fell out of my pocket on the way from my truck to the front door. Feeling it was a sign to ease-up, I simply did my best to remember what happened and just enjoy the night.
After procuring a Yazoo pale, I walked into the room and was able to land a spot at stage left near bassist Billy Mack Hill and guitarist Chris "Viva Las Vegas" Becker. It wasn't long, however, before "the eclipse" moved in - a good size feller who shoe-horned his way in front of many of us blocking our view as he head-bobbed for the early part of the show. Once he bulled his way in, it created a leak in the dam where another 8 to 10 folks forced their way in as well with the simple exchange of "Hey, you mind if we get up here? Thanks. Hey y'all, come on up here too!" But it was the Cheese, I was up front, and nothing was going to derail the fun times.
With very little banter, the band hit us right in the mouth by opening with
Oh Yeah
.
After months of planning and rehearsing for the two shows, Tommy
apparently got really sick
on game day. He donned his rally derby and soldiered on to the show. As a hedge, ringer guitarist and pleasant surprise to all, the band brought in Warner Hodges, the legendary guitarist from Jason & The Scorchers. From what I gathered, Warner had planned to join them on a couple of songs. As it turned out, he seemed to have a genuinely good time and played on about a third of the setlist.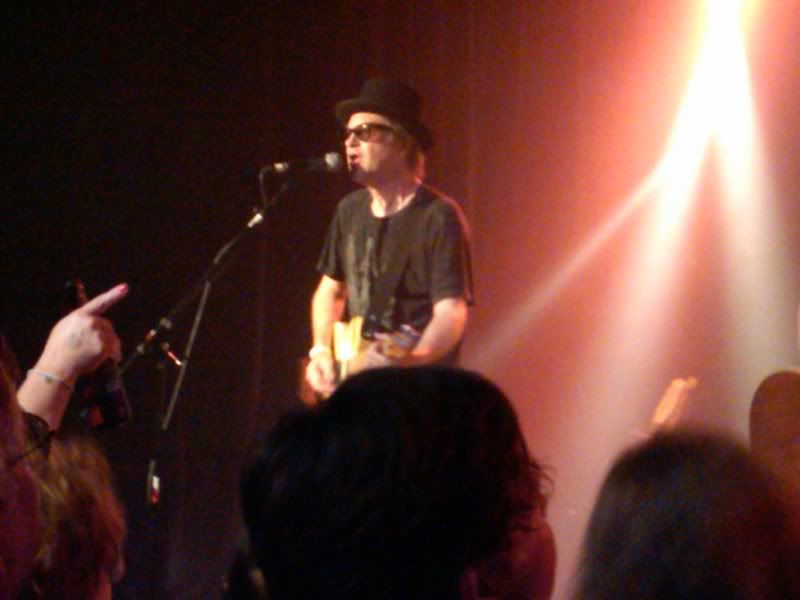 Tommy Womack
For the third or fourth song, the band kicked off
Underneath the Watertower
, the second track from their EP, C'mon Back To Bowling Green And Marry Me. About half-way through the song, Willis seemed to forget the lyrics, seemed ready to bail on the song and was ready for the band to re-start the song. But there is no crying in baseball and no mulligans in rock-and-roll. The band kept their rhythms, the crowd chanted their support, Scott smiled and gathered his thoughts and they forged their way through the rest of it. He apologized when the song ended saying he moved it up in the setlist to get it out of the way early and hedge against forgetting the lyrics. But no one cared.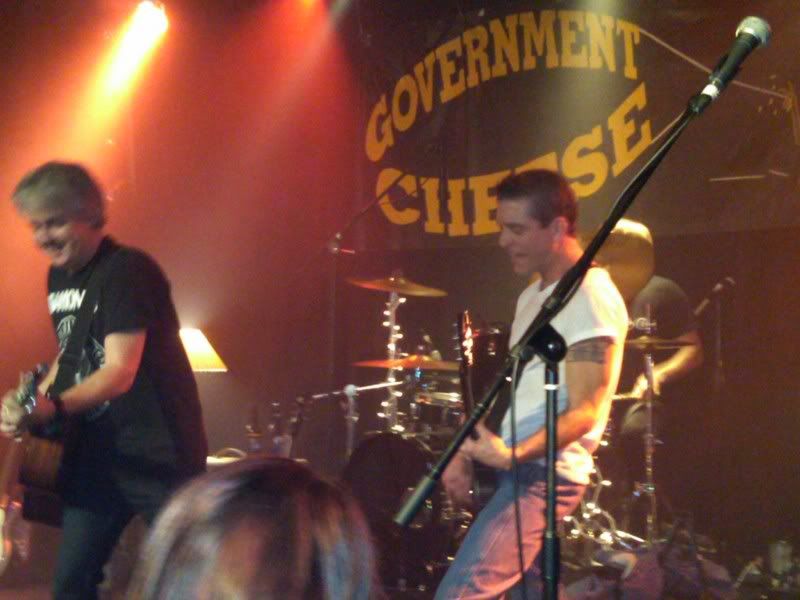 Scott Willis, Viva Las Vegas and Joe Elvis
With only a minor hiccup or two, the band ripped through their first pretty tight and VERY LOUD set. I glanced over at one point and noticed a guy half my age with ear plugs in his ears. I dismissed him as a complete FAIL. After another song or two though, Willis asked someone to grab him some napkins so he could stick them in his ears. Sure enough, someone soon fetched a stack of about 100 for him.
He wadded up a couple, crammed them in his ears and gave the rest to the crowd saying "You may need these. We're turned up to 11." Hopefully my fellow middle-agers got the Spinal Tap ref. As for me, no way was I going for the ear protection. I didn't wait two decades to hear a clipped MP3 version of the Cheese. Who cares if everything on Sunday sounded as muddy as a Polygram cassette tape? (
Surely
some of you are similarly aged to appreciate how awful pre-recorded Polygram cassettes sounded back in the day.)
Twenty years ago at a Cheese show, alcohol flowed in prodigious amounts and cig smoke hung in the air like a San Fran fog. In 2011, though the room was packed, the bar wasn't overly busy and smoking is almost non-existent anymore - at least on a club floor. Most folks seemed to claim their spot and stay there much of the night. Once the first set ended, I downed another couple of Yazoos quickly and figured I'd stake out a new spot as folks took bathroom and smoke breaks. Sure enough, I eased to the opposite end of the stage and secured a great spot. I laughed a bit as I talked to a youngster standing next to me saying "I'm guessing you weren't around much for the first go-round of Cheese." The kid said something to the effect of "they were around in 1985 but I wasn't born until 95." It then dawned on me it was Tommy's son. His mother, Beth, settled in behind him. As Tommy noted in his write-up of the show, his son finally got to see his dad in the rock-and-roll glory he'd only heard about as he's grown up. Tommy references his son's drumming skills in his solo song,
Alpha Male & The Canine Mystery Blood
. I jokingly needled Nathan a bit by suggesting he ask for a chance to drum on one of the songs. But smartly I suppose, he was content to stay at the lip of the stage and just absorb it all.
Tommy Womack and Warner Hodges
The second set picked up right where the first one ended. Included was one of my faves, Billy Mack's
The Shrubbery's Dead Where Danny Used To Fall
. Its hardly an uplifting song, but I've enjoyed it since day one for a couple of reasons: One, lyrically its the complete opposite of some of the Cheese's more comedic songs. Two, the visual created by the song's title made me laugh in a whacked sort of way from the first time I heard of it. Three, being a
Monty Python
fan, the word "shrubbery" always brings a smirk to my face - even in the midst of the dark subject matter of the song.
Another example of how the show of Saturday wasn't the show of 20 years ago. As the second set peaked, a near 50-year-0ld Willis pulled a stage dive several feet to the right of where I was standing. Rather than be prepared to catch him, the aging audience with their iPhones and Droids in hand shrieked a bit, parted ways and barely broke his fall.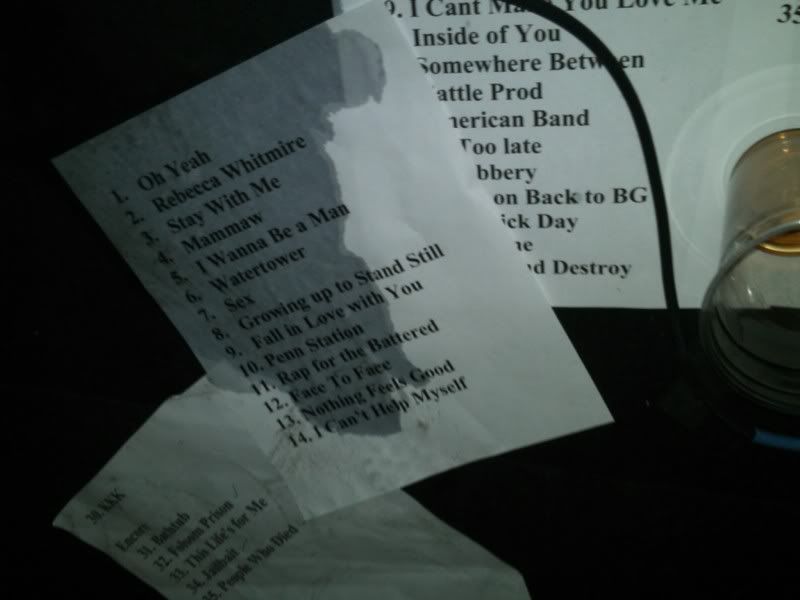 A beer-soaked playlist
As mentioned at the beginning, I didn't keep notes about the setlist. But I know the following songs were played. Other than opening with
Oh Yeah
and closing with the Jim Carroll cover
People Who Died
(are you listening Lindsay Lohan and Charlie Sheen?), I'm not going to pretend to remember the exact order or set.
Oh Yeah (TMC video'd)
Rebecca Whitmire
Underneath The Watertower
Stay With Me
Mammaw Drives The Bus
I Wanna Be a Man
A Little Bit of Sex (less Tommy's 10-minute Gene Simmons story he generally tells in his solo shows)
No Sleeping in Penn Station
For the Battered (TMC video'd)
Face to Face
Nothing Feels Good
I Can't Help Myself
Single
Yellow Cling Peaches
Camping on Acid
Sunday Driver
I Can't Make You Love Me
Cattle Prod > American Band (TMC video'd)
The Shrubbery's Dead (Where Danny Used To Fall) (TMC video'd)
C'mon Back to Bowling Green and Marry Me
Fish Stick Day (TMC video'd) > My Old Kentucky Home
Encore:
Bathtub He Asked
Folsom Prison Blues
Jailbait
Skinny & Small > People Who Died
Attention: Bonus Blog Content! And today - available to you
at no charge
!
The songs I recorded are included in my
YouTube GC playlist
, and a few of the photos I took are available in my
Photobucket album
.
...and the band now.

These days, I prefer a chair at a small, round table or perch myself on a bar stool in a small room listening to a singer-songwriter over arena/stadium concerts or ridiculously loud rock shows in a club. But if the Cheese reunite in
another
20 years, I hope I'll be there to see them - even if it means turning my hearing aid up to 11 to enjoy the show.
TMC